Carr's Special Organic Ornamental Mulch & Feed
Based on traditional farmyard manure from straw bedded cattle yards. This is composted, dried and shredded, then mixed with a high quality ornamental bark.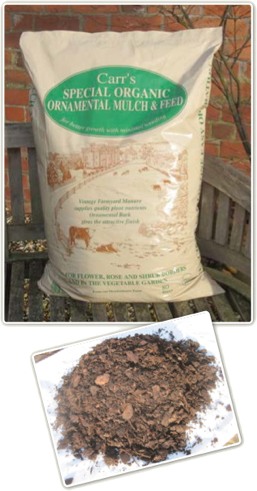 Mulches and feeds in one operation.
Nutrients slowly released into the soil.
Considerably reduces weeding.
Helps retain moisture around plants.
Improves the appearance of all types of borders.
Protects roots of plants from extremes of temperature.
ph neutral.
Available in 80 l. bags.
How to use:
Remove existing weeds.
Spread mulch 1-2" (25-50mm) thick on flower, rose and shrub borders.
As a guide:
One 80 l. bag will cover 3 sq.m. at a depth of 1" (25mm).